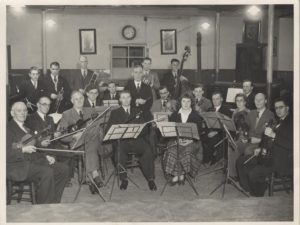 The story began in 1862 when St Georges and District Orchestral Society was founded in the "new town" of St. Georges. 1862 was the year that both Debussy and Delius were born.
A few years later the new orchestra amalgamated with the local choral society to become St Georges and District Choral Union and St Georges Orchestral Union. We know this from the names and dates stamped on music in our library. From the start the orchestra gave concerts and accompanied local choirs. In 1962 New Zealand operatic soprano Dame Joan Hammond took part in the orchestra's centenary concert.
After the new town of Telford was formed in 1963, the orchestra changed its name to Telford Light Orchestra and then simply to Telford Orchestra.
The size of the orchestra has varied widely over the years:  in the 1930s the orchestra could muster eighteen first violins, as well as its full complement of other orchestral instruments. At one point it shrank to just five members, but its fortunes have substantially revived since then and there are usually between forty and fifty players at our concerts.
For many years the orchestra performed at the Majestic Ballroom (now demolished) in Wellington. For much of that time the orchestra was directed  by William (Billy) Shuker, only the fourth conductor in over 100 years. More recent conductors have included George Raxter, John Phillips, Ruth Matthews, Michael Davey, and local composer Rory Freckleton.
One of the UK's oldest orchestras
The mid-19th century was a time when many choral societies, brass bands, and orchestras were formed.   Some of the oldest organisations were choral societies, and both the Hallé and the Royal Liverpool professional orchestras are a few years older, but Telford Orchestra is one of the oldest continuous amateur orchestras in the country!
William Shuker
Billy Shuker stands out as the most dedicated of the orchestra's members. He became conductor in  1918 and continued for the next 65 years.